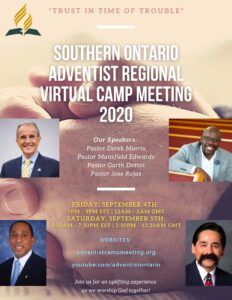 Southern Ontario invites you to its 2020 virtual camp meeting this coming weekend, Friday, Sept. 4, to Sabbath, Sept. 5! Come, share and invite a friend to join us on these days of thankfulness. Testimonies, music and several inspirational speakers will help you remember what communal worship can be, with the first virtual worship of its kind in the region. This event includes three simultaneous programs prepared for adults, youth and children [please shared attached flyers].
Here's some information on each program:
Children
Join us for a dedicated virtual camp meeting experience for children between 0 and 14 years old. We will have a Sabbath morning full of engaging activities for kids, including Sabbath School. Through the lesson, "A Wife for Isaac," we will learn the importance of family and having trust in the Lord in all aspects of our lives. Do not forget to check out the list of supplies needed (click here) as we will be doing hands-on activities. Looking forward to worshiping together on Sabbath, Sept. 5, 2020!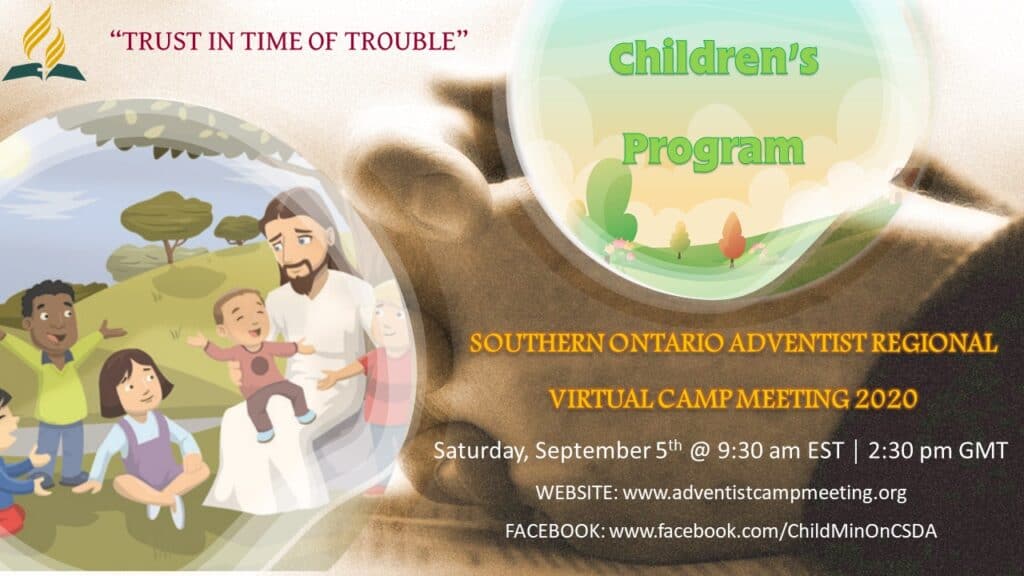 Youth
SOARYN (Southern Ontario Adventist Regional Youth Network) presents "Press On: Never Going Back," a 2020 virtual camp meeting for all teens, youth, young adults and young at heart! From the riveting discussion and inspiring sermons to uplifting praise and heartfelt worship, this is a two-day experience of grace you won't want to miss. Support youth and young adults from across the Southern Ontario region as they display their gifts and talents to God's honour and glory! We hope and pray that you will leave this weekend feeling blessed. We look forward to worshipping with you soon.
Adults
All are welcome to the Southern Ontario region's powerful worship experience for adults. From 7:00 pm to 8:30 pm on Friday, Sept. 4, and from 9:30 pm to 7:00 pm on Sabbath, Sept. 5. Join the 24 churches of the Southern Ontario Region to remember what communal worship can be, as the first camp meeting of its kind in the region.
Also, tune in, and you may be the recipient of one of the special gifts presented to viewers. Most of all, join us for this soul-enhancing experience of 2020 that will bring us all together.
Live streaming is available on the following channels:
Adults— https://www.youtube.com/adventistontario
Youth— https://www.youtube.com/AdventistYouthOntario
Children— https://www.facebook.com/ChildMinOnCSDA
For details, visit the camp meeting website at www.adventistcampmeeting.org, or, for the youth, the youth website www.soaryn.ca (the website is no longer functional).