Bring all the tithes into the storehouse so there will be enough food in my Temple. If you do," says the Lord of Heaven's Armies, "I will open the windows of heaven for you. I will pour out a blessing so great you won't have enough room to take it in! Try it! Put me to the test! – Malachi 3:10
Below is the Tithe and Offerings envelope from the Willowdale Seventh-day Adventist Church, which outlines some giving recommendations.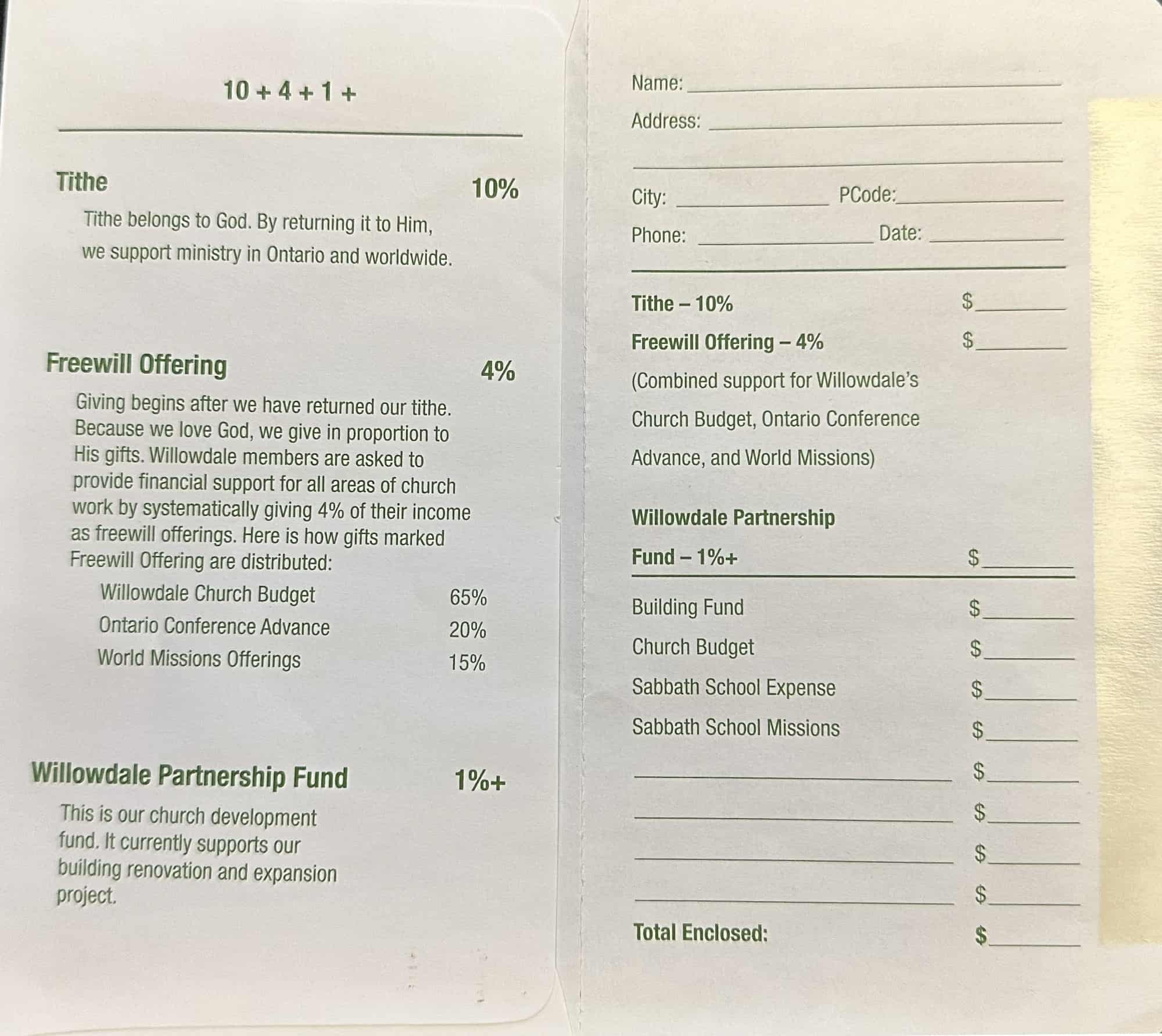 There are two ways to give online: Adventist Giving or E-Transfer. Both achieve the same goal and are equally good. Just select the option that makes the most sense and that is easier to use. If you have any questions or encounter an issue, you may contact our church treasurer by phone ((416) 636-2471 ext. 15) or by email ([email protected]).
AdventistGiving
AdventistGiving is the online version of the offering envelope. It can accept most credit cards and some debit cards. Anyone can send funds without creating an account and regular users can setup recurring transactions. Please watch the video below for more information.
E-Transfer
E-Transfer is an online service by Canadian banks. Please be sure to indicate in the message section what the funds are for – such as tithe, or church budget, etc.  E-Transfer funds received with no message indicating what the donations are for will be allocated to the designated loose offering scheduled for the Saturday of the week the transfer is made (Sunday – Saturday).
To make a donation by E-Transfer:
Log into your bank account
Select the account from which you want to Send E-Transfer
Enter the amount to transfer
Choose the Recipient – Willowdale Seventh-day Adventist Church
If you plan to do multiple transfers, you can add it as a Payee so that the name will already be on your payee list
Enter the email address of the recipient to which you are sending money:  

[email protected]

Complete the message section to let the Treasurer know how you would like to designate the funds
Continue completing your E-Transfer
You also have the option to Set Up a (weekly or monthly) Recurring Transfer.