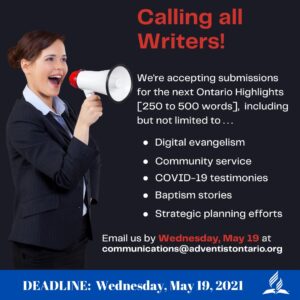 Here's a message from the Communication Department of the Ontario Conference:
Although we are still in the pandemic, God has been working in mighty ways throughout our conference. We want to continue giving thanks for God's work in and through Ontario Conference directors, pastors and lay leaders. Please send us stories of the creative ways you, your church or your department have been serving God in this pandemic.
This magazine's theme is vision/mission/strategic planning under the broader umbrella of the Conference's 2021 theme—Connecting Like Jesus. We are showing the importance of knowing your purpose and where you want to go (mission and vision) to the church's effectiveness in fulfilling the great commission.
We are especially interested in hearing about
any successful examples of strategic planning in your church or different church departments;
ministry to children and youth, seniors, essential workers and individuals impacted by COVID-19;
virtual outreach programs and digital evangelism efforts;
baptisms resulting from COVID-19 ministry;
socially distanced community service/compassion initiatives;
individuals engaging in personal ministry in their workplace, school, neighbourhood or other spheres of influence;
small groups; and more
Please note that these stories are meant to inspire and educate. Therefore, we ask you to focus more on the why, what, who and how-to than theory; we also ask for articles of 250-500 words. If available, please submit a high-res photo (or photos), with captions, helping to tell your story. Please submit for consideration to [email protected].
If selected, these stories may* find a home in the OCN, social media or the Ontario Highlights.
To be considered for the upcoming Highlights (June release date), we ask that articles be submitted by Wednesday, May 19.  
*Note that we will select articles for publication based on appropriateness to theme, time, and space constraints.
Please see attached a flyer you may share with members just summarizing
Thank you for helping us tell the story of Adventists in Ontario!
Ontario Conference Communications