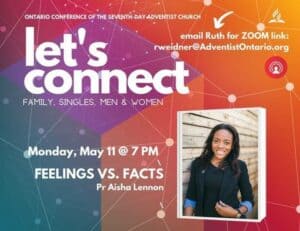 Here's a message about the Men's and Women's Forum. The message comes from Pastors Elizabeth and Orlando Pule, Co-Directors
Family | Singles | Women | Men's Ministry.
Hi Friends,
We are so excited to have these conversations next week with you all. Please note that there are 2 separate spaces, one for men and the other for women.
LADIES
Pr Aisha Lennon from the Man-Sask Seventh-day Adventist Conference. We will dive into how we can grow our relationship with Jesus and how we can find true value and identity in Him. There will be breakout rooms for short discussion and Q & A time with Pr Aisha. Can't wait to connect with you!
MEN
Pastors Pierre Quinn (Author and Speaker on hope channel) and Andre Anderson [Lead Pastor, Ontario Conference] will be joining us and sharing with us on what it means to LEAD THROUGH these times of Covid-19 and beyond. There will be opportunities to pray with one another, Listen and be empowered, ask questions and grow together.