Board Members Needed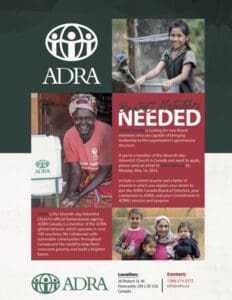 ADRA Canada is looking for new Board members who are capable of bringing leadership to the organization's governance structure. If you're a member of the Seventh-day Adventist Church in Canada and want to apply, please send an email to [email protected] by Monday, May 16, 2022.  Include a current resume and a letter of interest in which you explain your desire to join the ADRA Canada Board of Directors, your connection to ADRA, and your commitment to ADRA's mission and purpose.
ADRA Canada is hiring!
Below, please find positions currently open for applications. Potential applicants are encouraged to visit www.adra.ca/aboutus/careers for more details and to apply. These positions will remain open until filled. We thank all candidates for applying, but ADRA Canada will only contact those selected for an interview.
Content Writer
ADRA Canada is seeking a part-time content writer who is enthusiastic about weaving stories of hope, sustainability, and social justice. The stories will be published on ADRA Canada's website, the Canadian Messenger, Conference newsletters/magazines, and fundraising campaigns. They will also enhance ADRA Canada project stories derived from program reports.
Monitoring and Evaluation (M&E) Manager
In coordination with the Development Program Director, the M&E Manager will be responsible for leading efforts in ensuring the smooth functioning of ADRA Canada's project monitoring, evaluation and reporting (MER) systems, strengthening staff and local partner capacity in MER, providing tools to implementing partners, and in further developing ADRA Canada's expertise in MER.
MEAL (Monitoring Evaluation Accountability and Learning) Manager
The MEAL Manager will bring significant experience and fresh ideas to lead on MEAL system implementation, review and evaluations, MEAL budgeting, recruitment, and support to proposal writing and logical framework development.
Project Manager
The Project Manager will be responsible for writing proposals and managing projects successfully from project start-up to the end of project evaluation. These will be primarily, but not limited to, Food and Non-Food Assistance Humanitarian Projects funded by the Canadian Foodgrains Bank (CFGB) and International Humanitarian Assistance (IHA).